Meet the Committee
The Committee oversees the running of the EUTC and Bedlam Theatre. The Committee consists of positions that run and manage everything from finances, to building maintenance, to shows coordination, to making parties awesome!
If you want to know more about what each role does, click each title below or go to the EUTC Wiki here.
The 2023/24 EUTC Committee are as follows:

Presidents (joint) - [email protected]
Emily Richards 🐛 (she/her, 3rd Year International Relations) - Facebook
Emily is from South Wales [insert totally original, never heard before sheep joke]. She is co-president of Bedlam and absolutely loves having to chair GMs because she definitely does not hate public speaking, at all! Her favourite activity in Bedlam is sitting in front of the café heater pretending she's there to do work, but ending up chatting to everyone that comes in.
Fact: Emily once showed Ed Gamble to a seat in the comedy club she worked at, and then proceeded to tell him how shit the seat was.
Freya Game 🐻‍❄️ (she/they, 3rd Year Ancient History) - Facebook
As well as being one of the presidents this year, Freya is one of our resident Scots and lighting designers. However she is most importantly known as the proud owner of an [almost] exclusively black wardrobe. She lives for the drama of theatre, particularly design (you can often find her staring at the rig in awe). This year she hopes to encourage as many people as possible to also fall in love with it and our little building too - she cannot wait to meet you!
Fact: Shook hands with Phoebe Waller-Bridge. Never shuts up about it.



Secretary - India Hunter 🦌 (she/her, 3rd Year History of Art and English Literature) - Facebook
India is from Middlesbrough in the North East of England and her father is actually a steelworker - you can't get more stereotypical than that! She enjoys doing admin, a trait that has led many people to question her sanity. Feel free to chat to her about anything, she welcomes the distraction from her mortal enemy: The Bedlam Calendar.
Fact: India is somewhat of a medieval apothecary worker and always has a herbal tea on hand to heal any ailment.


Business Manager - Miki Ivan 🐵 (he/him, 2nd Year Psychology) - Facebook
Miki's from St. Andrews meaning he is expected to walk around in tweed all the time and be very posh. As Business Manager, you're supposed to like money and being from St. Andrews, he loves money. He loves a bit of programming and being up ladders in ways that are concerning to risk assessment writers.
Fact: For almost all of 1st year, Miki ate 4 apples a day and now doctors run when they see him.


Theatre Manager - Lewis Eggeling 🐢 (he/him, 3rd Year Computer Science and Mathematics)
One of Bedlam's token Scottish people. Having spent a year within Bedlam coiling cables, scraping moss and blacklisting the term 'stage cupboard', Lewis is thrilled to be spending a year doing the exact same activities - just this time he can't be judged, as it's now his committee role.
Fact: Lewis is pretty much allergic to everything in Bedlam. Does that stop him? No.


Front-of-House Manager - Luca Stier 🐸 (she/her, 4th Year International Relations) - Facebook
Luca is an American person and that's all there is to her. Luca is the Front of House Manager and has (unwillingly) developed a silly, high-pitched costumer service voice. Luca started dyeing her hair green at age 12, and she primarily builds sets on shows so gets splinters for fun and profit.
Fact: Luca is very fond of a stuffed frog you can find in Bedlam named Jeremy.


Productions Manager - Lauren Green 🕺 (she/her, 2nd Year English Literature) - Facebook
Lauren is from Wells, Somerset and so she has been skipping through fields and drinking cider since she could walk. Lauren is Bedlam's Productions Manager and has a habit of signing up for an obscene amount of shows. She is extremely excited to have keys to Bedlam, as she spent most of her first year getting locked out.
Fact: Lauren has six siblings and regularly loses track of how old they all are.


Technical Manager - Martha Barrow 🐧 (she/her, 4th Year Acoustics and Music Technology) - Facebook
Martha is this year's Dutch committee member. She is the Tech Manager and enjoys nothing more than spending time on the rig with her friends.
Fact: Martha lost her horse finger puppet in the Church Hill Theatre. Please keep an eye out for him if you're there.



Set Manager - Holly Spragg 🍓 (she/her, 2nd Year Architecture) - Facebook
Don't ask Holly where she is from. She will lie to you. Holly is the the Set Manager and can often be found in Bedlam trying to convince people to join the set team, or furiously cleaning the kitchen.
Fact: Holly cannot get a GP appointment as doctors avoid her by proxy, in freshers someone on her corridor stole and ate four apples a day for the year


Wardrobe Manager - Chloe Lannert 🐊 (she/her, 4th Year Sociology)
Another American has joined committee (sorry)! Chloe's from the cornfield and Starbucks bit where you cook everything in butter. She loves clothes but dresses terribly (it's cold don't judge) and has a secret list of my favourite Bedlam items that she tries to sneak into every show regardless of whether it makes sense or not.
Fact: Chloe used to be a coxswain in high school and at Edinburgh; steering the long boats (not fun) and shouting at men (will continue doing so for the rest of her life).


Social Events Manager - Jack Greengross 🦎 (he/him, 2nd Year English Literature and History)
Jack is from London (sorry about that) and he is the Social Events Manager so basically he's loud. He loves Bedlam but, he can't lie, the crypt kinda freaks him out.
Fact: At one point Jack was so convinced he was a wizard that halfway through year 4 he told everyone he was leaving to go to Hogwarts (and maybe he did…)


Marketing Manager - Jemima Jayne 🐔 (she/her, 4th Year Classics)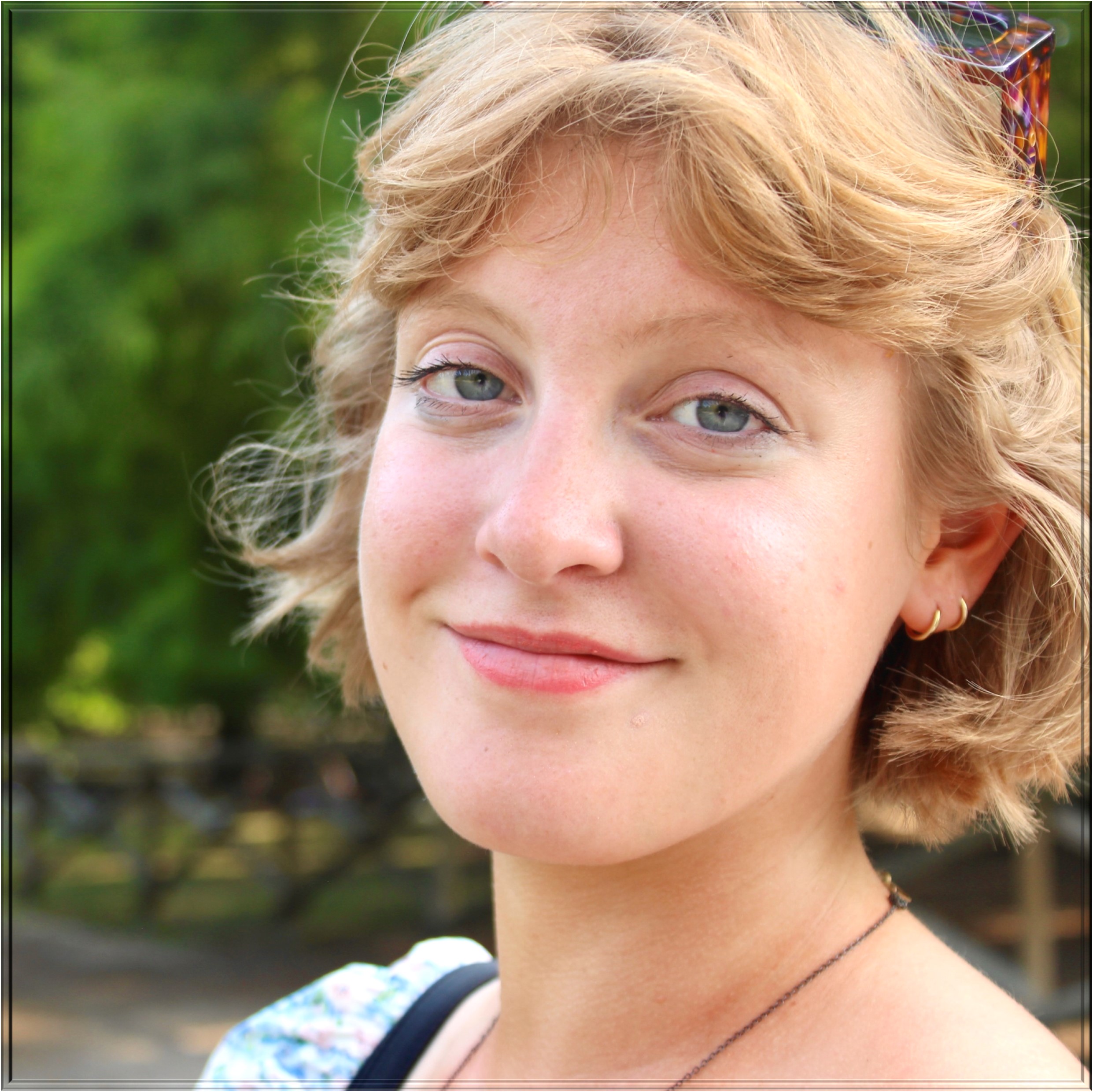 Jemima is from Bristol and so feels a strong affinity with pirates and combine harvesters. She is the marketing manager and engagement officer and has sworn an eternal blood oath to Canva. Her favourite thing to do in Bedlam is look at the posters in the café and wonder about our ancestors.
Fact: Jemima appeared on CBeebies as a child. She can also read palms (if you ask nicely).
---
Fringe Venue Manager - Marie Gaasø Rimolsrønning
Subcommittees
Subcommittees are smaller groups of members that are responsible for a particular part of running the theatre. Currently, there are six permanent subcommittees.
If you would like to know more about each subcommittee, there are a series of pages dedicated to them on the EUTC Wiki, here.
Archives
Ever wanted to dig through a pile of paper and pictures to uncover what secrets the past has? Archives is a group of people all interested in the past of the 150 year old EUTC, the 40 year old Bedlam Theatre, and anything else we find along the way. Contact us at [email protected].
We also run the longest running fully student-run library in Scotland! (Much to the pain of the librarian)
Our team:
Archivist & Librarian
Em Leites McPherson
Other Members
Luca Stier
Lee Harding
Lewis Eggeling
IT
Ever wanted experience being a system admin? No matter what your experience with computers are we will take you. Bedlam has a server rack which runs many different process to the website, phones, internal media servers, Internet, and even the doorbell. Contact us at [email protected]
IT Systems Engineer
Joe Lewis
Other Members
Luca Stier
Lewis Eggeling
Bea Healy
Workshops
The Workshops Subcommittee are responsible for creating, and coordinating all our workshops. It's a great way to bring new members into the society, and a particularly enjoyable and rewarding committee to be part of. [email protected]
| | |
| --- | --- |
| Workshops Coordinator | TBC |
Engagement
The Engagement Subcommittee are all about the membership: if you want to be assisting with bringing new members into the society, and making sure that they feel welcomed, then come and join this group! [email protected]
| | |
| --- | --- |
| Engagement Officer | Jemima Jayne |
Gardens
Yes, we sometimes go outside too! The Gardens Subcommittee is perfect for you if you want to ensure that the building's exterior is kept as pristine as it can be. Gardens is a small subcommittee, but the members certainly make a difference in the building. If you'd like to join them, or have gardening tips, feel free to get in touch at [email protected]
Groundskeeper
Leon Niven
Other Members
Em Leites McPherson
Emily Richards
Lewis Eggeling
Luca Stier
Our welfare contacts are there to ensure the well-being of everyone in the EUTC. Currently, our welfare contacts are:
Liberation Representatives
Finally, we have our liberation representatives, each responsible for a minority group, who are responsible for ensuring that the EUTC is an inclusive society and addressing concerns about representation in EUTC projects.
| | |
| --- | --- |
| Anti-Elitism Rep | Unfilled |
| Disability Rep | Unfilled |
| LGBTQ+ Rep | Unfilled |
| Ethnic Minorities Rep | Unfilled |
| Trans and Non-Binary Rep | Unfilled |
| Women's Rep | Unfilled |