This show finished on Thursday 01 November 2018, and this page is being kept for archival purposes only.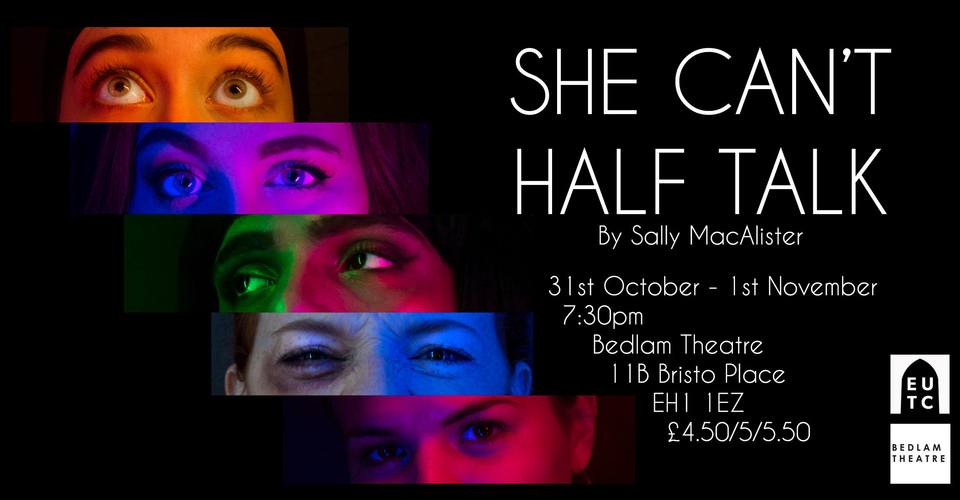 Dates
Wednesday 31 October - Thursday 01 November
Price
£5.50/5/4.50
Author
Sally MacAlister
Venue
So: A foetus, a cougar, a camera girl, a drag queen and a victim walk into a bar…
The EUTC presents an all femme monologue focusing on unusual and unheard perspectives. Be prepared to meet a foetus excited to meet her single mother, a camera girl questioning her life choices, a victim who refuses to believe she is one, a drag queen with separation anxiety and a cougar terrified of being forgotten.
Show Advisories: Abortion, Offensive language, Mentions of sexual assault, Flashing lights / Strobe lighting, Violence. Recommended 18+.
Latecomers may not be admitted.
Tickets for 'She Can't Half Talk' as well as other shows can also be bought on our society page on EUSA - find them under the 'Our Products' tab.
Wednesday: https://www.eusa.ed.ac.uk/events/10188/12546/ Thursday: https://www.eusa.ed.ac.uk/events/10188/12547/
---
Cast and Crew
The Victim

The Camera Girl

The Foetus

The Drag Queen

Producer

The Cougar

Director

Technical Manager

Stage Manager
---