This show finished on Saturday 01 December 2018, and this page is being kept for archival purposes only.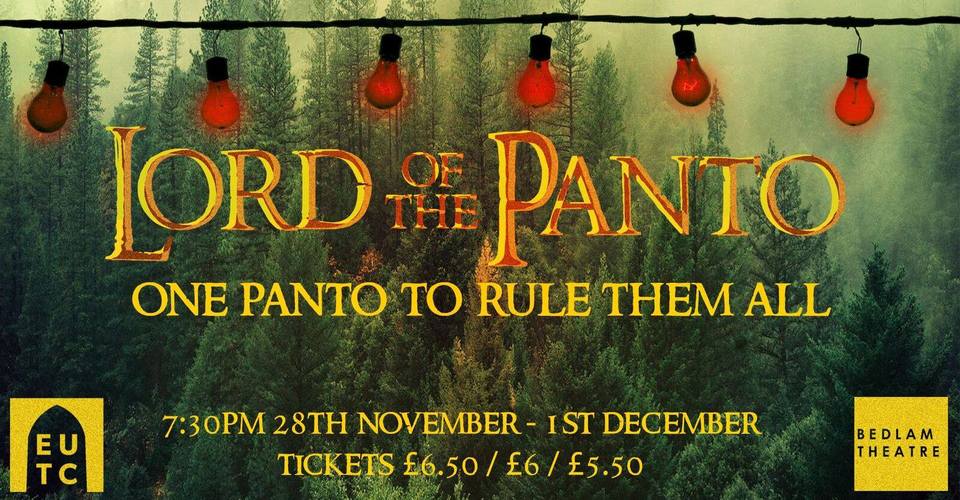 Dates
Wednesday 28 November - Saturday 01 December
Price
£6.50/6/5.50
Author
Ishbel McLachlan
Venue
One Panto to Rule Them All, One Panto to Find Them. One Panto to Bring Them All, And in the Darkness… Christmas?
Yes, you've heard of Lord of the Rings. Yes, you've heard of Lord of the Flies. Yes, you've even heard of Lord of the Dance. But why on (middle) Earth have they been grouped together? What do they have in common other than similar titles? CHRISTMAS, THAT'S WHAT! Oh and also, y'know, tragic plots of evil, death and destruction. BUT CHRISTMAS TOO! Join your favourite characters from Middle Earth, those wee boys from Lord of the Flies and the Lord of the Dance himself for an unexpected journey through song'n'dance and Christmas Cheer™. You shall not want to pass on this.
Show Advisories: Offensive language / Haze / Strobe lighting.
Latecomers may not be admitted.
Wednesday tickets: SOLD OUT
Thursday tickets: SOLD OUT
Friday tickets: SOLD OUT
Saturday tickets: SOLD OUT
Tickets for 'Lord of the Panto', alongside our other shows can also be bought on our society page HERE - find them under the 'Our Products' tab.
---
Cast and Crew
Aragorn

Assistant Stage Manager

Co-Producer

Co-Producer

Director/Writer

Eric

Frodo

Gandalf

Gimli

Gollum

Jack

Michael Flatley

Liam Bradbury

Mural Artist

Piggy

Ralph

Ringwraith

Sam

Santa

Set Manager

Simon

Stage Manager

Technical Assistant

Technical Assistant

George Manchester

Technical Assistant

Technical Assistant

Technical Manager
---